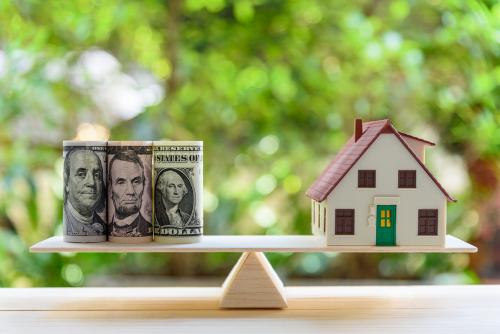 Many homes offer significant value — especially if they're paid off, or large portions of their mortgages are repaid. Some older Americans may find themselves on fixed incomes and need to supplement with additional funds. Others need to make repairs or want a home that better supports aging in place. All these scenarios are ideal for a reverse mortgage. This informative guide explains the benefits to a reverse mortgage, plus some other factors you'll want to consider before you apply.
The Nuts and Bolts of a Reverse Mortgage
The basic idea of reverse mortgages is rather simple. It allows older homeowners to receive payments based on the value of their homes. Payouts can come in a few different ways: a monthly payment, a lump sum, or a credit line. Repayment isn't required until you are no longer in the home or the last surviving borrower dies. Selling your home will also call for repayment of your reverse mortgage.
There's not just one type of reverse mortgage. Several kinds are available, designed to fit unique needs. The two most common are the home equity conversion mortgage, or HECM for short, and the proprietary or jumbo reverse mortgage. The Federal Housing Administration insures the HECM. Meanwhile, the proprietary reverse mortgage mostly applies to high-value homes.
How To Qualify for a Reverse Mortgage
Keep in mind that each lender may have its own requirements to qualify for a reverse mortgage. But most have some basic qualifications that applicants must meet:
One of the borrowers must be aged 62 or older.

The borrower must live in the home.

The home must have enough equity to support a mortgage.
Besides borrower qualifications, the property in question must meet some requirements as well. First, it must be a primary residence — vacation and rental properties are not eligible. Single-family homes and HUD-approved condos are eligible, along with FHA-approved manufactured homes. Detached houses and townhomes also qualify for reverse mortgages. Two-, three-, and four-unit complexes are eligible as long as their owners live in them as their primary residences.
Applicants for HECM loans must undergo a financial assessment. This process determines their ability and willingness to pay. And as for equity, most experts recommend having at least 50% in your home to boost your approval odds. Once you have the loan, you'll be required to pay insurance and property taxes. If you're taking out a HECM loan, you must keep your property in good condition according to FHA guidelines. Fortunately, you can use the loan proceeds for maintenance and upkeep as you see fit.
Retirement and Reverse Mortgage Options
Many older adults wish to remain in their homes after they retire. Reverse mortgages can support these goals. You can choose a payout option that best meets your needs. But no matter which one you choose, you could use the funds to supplement your current income or avoid tapping into retirement funds. You may even be able to delay applying for Social Security retirement, resulting in higher monthly benefits. It's estimated that you could receive up to 32% more per month if you postpone Social Security until age 70.
There are a couple of things to consider if you're eying a line of credit. Adjustable-rate credit lines can help you pay off your existing mortgage or take care of property maintenance. Or, by keeping the money in your credit line with interest growth, the amount available for lending can increase slowly — giving you access to more money when you need it.
Using the Funds for Home Repairs
Naturally, you can allocate funds from a reverse mortgage toward home improvements. This is especially useful if you have repairs to make but don't want to take out a home equity loan or line of credit. With repayment on your reverse mortgage delayed, you're not automatically hit with any monthly loan or line of credit payments.
Moving To a New Home With a Reverse Mortgage
One of the most common reverse mortgage loan myths is that you can't get one if you're moving to a new home. Contrary to popular belief, you may still qualify. It's called a HECM for Purchase, which lets you buy a new home and get a reverse mortgage at the same time. This solution is often ideal for people who want to downsize to a smaller home or move to a house that better lets them age in place.
Other Considerations With Reverse Mortgages
You've already seen some of the benefits of a reverse mortgage. Before you apply, there are some other pros and cons you'll want to consider. First, your mortgage should be paid off or almost completely paid down. A HECM loan must take the first-lien position, so it's the primary debt owed on the property. You may need to use some of the proceeds to pay an existing forward mortgage first. Once that's paid off, you must wait one year from the closing date to receive the rest of your reverse mortgage funds.
Reverse mortgages obviously work differently than traditional lending products, but you should also know that their balances will slowly increase as you stay in your home. Interest and fees will also rise. These can affect your estate's value after you pass away.
You should also know that a reverse mortgage does not prevent you from selling your home. You will need to pay it off once you close on the home, however. Thankfully, you aren't responsible for any prepayment penalties. This also applies if you aren't selling your home but still pay it off early.
Reverse Mortgages and Your Estate
HECM and jumbo reverse mortgages are non-recourse. Lenders can only be repaid from homes' sales proceeds, never exceeding the value of the loan. Should your home's value decrease, your maximum repayment amount won't exceed that value.
After you pass away, any heirs to your estate have some options for dealing with your reverse mortgage. If your spouse is on the mortgage, this person can remain in your home, and the loan won't yet come due. Adult children can opt to refinance the loan if they wish to purchase your home. If not, they can sell the home and use the proceeds to pay the reverse mortgage's balance.
Your Trusted Reverse Mortgage Provider
Thank you for checking out this guide on reverse mortgages. You've now seen the many reasons why borrowers choose them, and maybe you're considering one for your own home. Your Reverse Mortgage is ready to help.
At The Reverse Mortgage Group, we educate potential clients on the value and benefits of a reverse mortgage. We're experienced loan officers offering in-home consultations during which we review our programs, process, and costs. With this information, you can decide whether this type of financing is right for you. We want to help seniors like you achieve their goals plus financial stability while remaining in their homes. Get a quote for your property or contact us at (925) 969-0380.
Image Source: William Potter / Shutterstock